Curriculum of japanese language school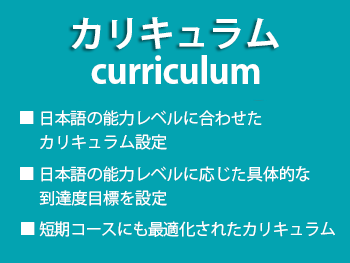 Japanese language course of I-Siefu is unique characteristics and attractive.
Highly achievement to higher education
We support students, who wish to enter public university or postgraduate course.
Many students pass an entrance exam of famous public or private universities, and postgraduates every year.
Our teachers are supportive
We have many teachers are well experienced and completed postgraduate course.
Our teachers do not only teach you Japanese but guide to pass the exam of university or postgraduate with consulting student a daily life and applying higher education.
Countermeasure for entrance exam with original curriculum
No additional cost required for taking English(TOEFL)・Math・Physics・Chemistry・Integrated subjects, which are essential subjects for entrance exam.
Our specialists strongly support you for those subjects!
Guiding philosophy is unique
Advising student for a daily life is based on Buddhism philosophy. We educate student to be bilingual and bi-common.
Overlaid Spiral Education
Improvement by repetition of over 100 additional materials.
Useful Japanese in higher education
Able to take a note, understand a lecture and write a report.


Full curriculum to improve Japanese language
Their Japanese can be improved to JLPT N3 or N2 level within half year, N2 or N1 within 1 year at I-Seifu.
Or employed at computer related company after 1 year and half or 2 years studying.
Level
Hours
JLPT
Contents
Beginner1
200hrs
JLPT N4
Basic grammar and daily conversation
Kanji:100 Words:800
Beginner2
200hrs
JLPT N3
Sentence pattern and general conversation
Kanji:300 Words:1500
Intermediate1
200hrs
JLPT N2
Grammar、reading comprehensions (intermediate)、conversation in various cases
Kanji:600 Words:3500
Intermediate2
200hrs
High score in JLPT N2
Grammar、reading comprehensions(intermediate)、conversation in various cases
Kanji:1000 Words:6000
Advanced1
400hrs
JLPT N1
Technical grammar、reading comprehensions、communications
Kanji:1500 Words:8000
Advanced2
400hrs
High score in JLPT N1
Technical grammar、reading comprehensions、communications
Kanji:2000 Words:10000
Weekly time schedule (example:Advance1)